Solar recipe : Apple pie
Here is a delicious apple pie recipe to make with your parabolic solar oven ! This recipe is brought to us by our Solar Sister Francine. Francine shares her tips and advice on how to make all her recipes with solar cooking.
Ingredients
1 round shortcrust or puff pastry
4 apples
Preparation of the recipe
Roll out the dough with the parchment paper in the 28cm diameter pie pan.
Garnish with apple slices. Cover with another pie pan of the same size or with a transparent lid.
After 30mn of cooking, turn the mould of 180° and put back 30mn always on average oven to strong.
Advice
If using a glass lid, it is advisable to put a light colored cotton cloth halfway through the baking process to prevent the pie from turning black.
I tried making an apple pie in a deep pan. The result needs improvement.
I added some blackberries but it was not a good idea because the dark fruits cook much faster than the others, so they might burn before the apples are done. This experience helped me to improve the following cookings.
You too can share your solar recipes with the Solar Family!
Recipe made with a parabolic solar oven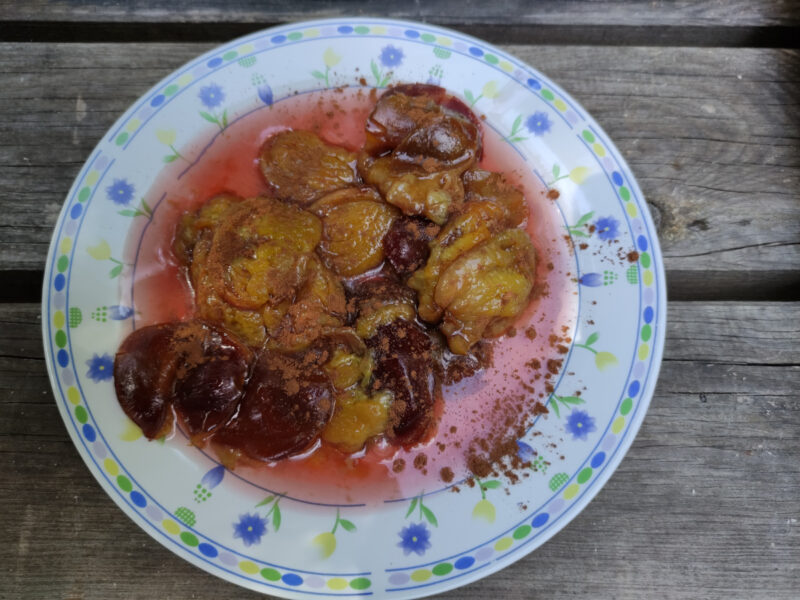 Solar recipe: Alsace quetsches in compote Here's a simple and delicious recipe for quetsches [...].