French Tech Christmas is a collective of 200 startups that offer the French innovative holiday gift ideas. The collective was created in 2014 under the impetus of the start-up Lima. The aim is to bringing French people and start-ups together for Christmas! For Art & Culture lovers, for children, for gourmets, for geeks, for fashion design ideas and of course for "eco-responsible" people; everyone can find startup at their feet and a gift to put under the tree! The SolarBrother and the famous latest generation solar igniter have been selected in the category responsible
CHAMPAGNE, SUNCASE, STARTUP....
Offer Suncases for christmas !
Last year we met Axelle Lemaire, this year it was Mounir MAHJOUBI who took all the time necessary to visit and get interested in all the startups present.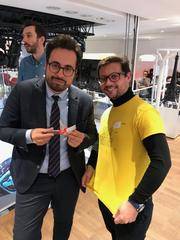 Unlike last year, we weren't promised anything, so… we won't be on it. Otherwise, when you want for the solar raclette, or in summer at the Elysée…. Obama had organized a solar picnic some time ago… I say that I say nothing… TO KNOW ALL ABOUT THE CHRISTMAS OF FRENCH TECH it's this way:
Home