Alternative and autonomous cooking pack
The alternative and autonomous cooking pack lets you cook all your recipes all year round using only the energy available on site!
Pack Cuisson alternative et autonome comprenant :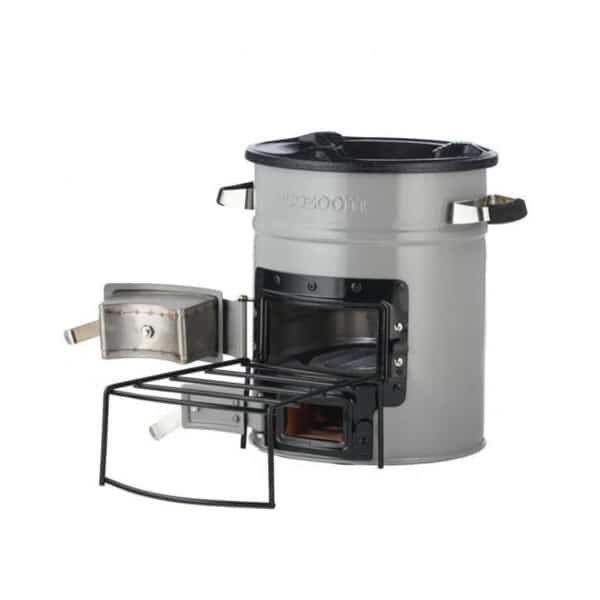 1 x EcoZoom wood-burning stove
– 50% FUEL SAVINGS
– TWIG AND BRANCH BURNER
– LIGHTWEIGHT AND PORTABLE
With the EcoZoom wood stove, you can cook more, with less fuel and smoke: the vertical combustion chamber reduces emissions and increases fuel efficiency. With the EcoZoom, a handful of wood is all you need to cook an entire meal! The EcoZoom wood-burning stove burns twigs, branches and charcoal, making it ideal for camping, outdoor cooking or emergency situations. The EcoZoom weighs less than 7kg and is easy to transport.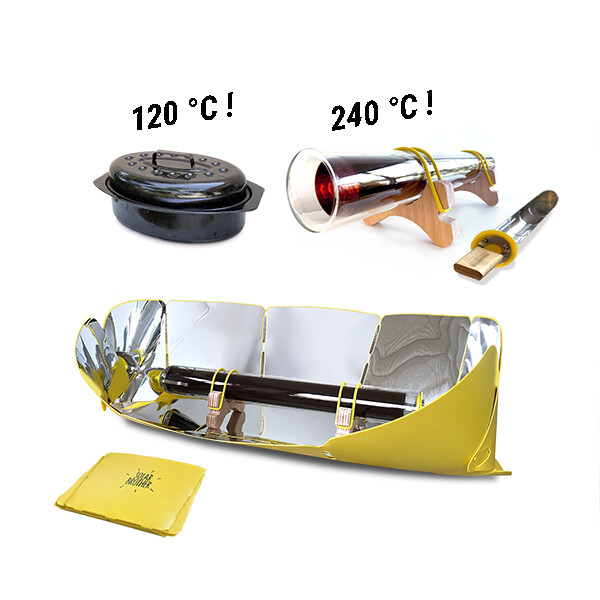 1 x SunGood 360 multi-firing solar cooker
– FREE ENERGY FOR LIFE
– NO FIRE / CAN BE USED ANYWHERE
– ALL TYPES OF COOKING
The SUNGOOD® 360 folding solar cooker features two complementary cooking modes. The first is the Suntube®, a cooking tube that delivers temperatures from 180°C to 240°C for searing food with rapid heat-up. The second, with the Cook UP kettle for gentle, unattended cooking from 100°C to 120°C to preserve nutrients. This means the SUNGOOD® 360 can be adapted to all your recipes: meat, fish, vegetables, breads, cakes, etc. Foldable and flameless, the SUNGOOD® 360 can be taken anywhere: forests, beaches, campsites, gardens (…).
1 x Norwegian pot
– Up to 70% energy savings
– Unattended cooking
– Simple, convenient operation
The Norwegian pot is an environmentally-friendly slow cooker that reduces energy consumption by up to 70%. Simply bring the food to the boil before transferring the pan to the Norwegian kettle: cooking is then completed safely, without supervision or any other energy input. The revolutionary yet age-old heat-retention design requires no batteries, plugs or electricity. It's a simple innovation that saves money and the planet. Its practical, portable functionality makes it easy to cook delicious, healthy meals.