Solar recipe: Pan-fried asparagus with bacon
This recipe, made with the Sungood 360 multi-cooker solar oven, is presented to us by our Solar Sister Gaelle! Here's a delicious recipe for pan-fried asparagus with lardons, tested and approved with the Suntube solar cooking tube. Gaelle has always been a mom with a passion for cooking and, more recently, for solar energy. She is always happy to share her trials and experiences on her Instagram page
Solliès Cheese
.
Recipe suggested by : Solliès Cheese – Tubular solar oven, SunGood 360 – Preparation time : 10 mn – Cooking time : 30 mn
Ingredients
A handful of asparagus
125gr smoked bacon
Two cloves of garlic and a shallot
A goat's cheese log
Provence herbs
Preparing the asparagus and bacon fritters
After trimming the asparagus stalks, cut them into small sections, leaving the heads whole. Chop shallot and garlic.
Spread the mixture in the tube, then season with a drizzle of olive oil and herbes de Provence. Bake for about 30 minutes.
Perfect with pasta, or as a topping for an omelette or quiche…
Enjoy your meal!
Share your solar recipes with the Solar Family!
Recipe made with a tubular solar cooker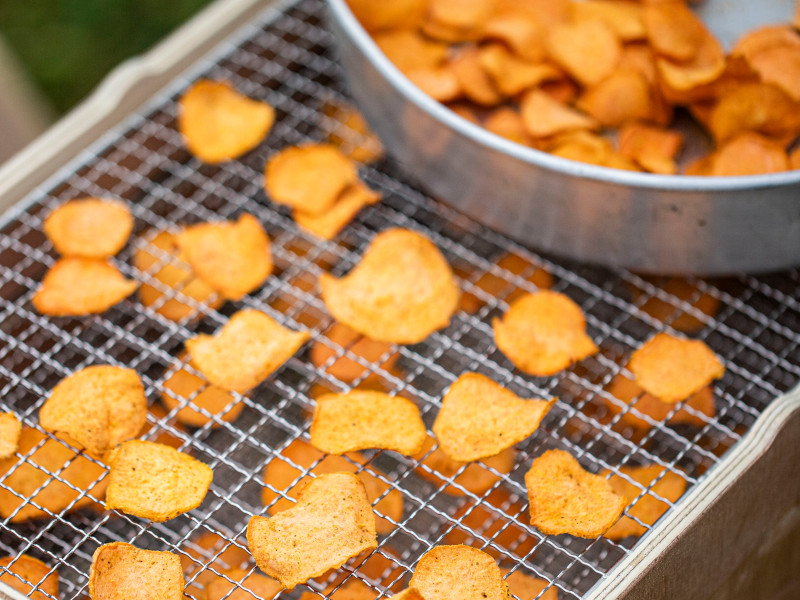 Sun recipe: Curried sweet potato chips Here's a recipe for curried sweet potato potato chips [...]