Solar recipe: Pasta with tomato sauce and minced meat
Here's a delicious recipe for pasta, tomato sauce and minced meat to prepare with your
parabolic solar cooker
! This recipe was suggested by our Solar Sister Francine. Francine shares her tips and tricks for successful solar cooking.
Ingredients for 4 people
500g pork or beef minced meat
2 kg tomatoes in sauce
1 head garlic
4 medium onions
1 sprig thyme
1 sprig rosemary
125g pasta (dry)
Recipe preparation
As tomatoes with sauce are very ripe, they need to be peeled and sliced.
Mince onions and garlic.
Place the minced meat at the bottom of the pan, cover with a good layer of tomatoes and scatter over the garlic, onion, thyme and rosemary.
Then place the pasta on top and cover with the remaining chopped tomatoes.
Cover.
Place over medium heat for 45 minutes, turn the pan 180°, then simmer for a further 30 minutes over high heat.
The pasta will cook in the tomato juice.
The dish is excellent and all in one!
Advice
The cooking time depends on the quality of the pasta. For some, the cooking time will be shorter.
I used good organic pasta made with durum wheat semolina direct from the local farmer-producer.
Share your solar recipes with the Solar Family!
Recipe made with a parabolic solar cooker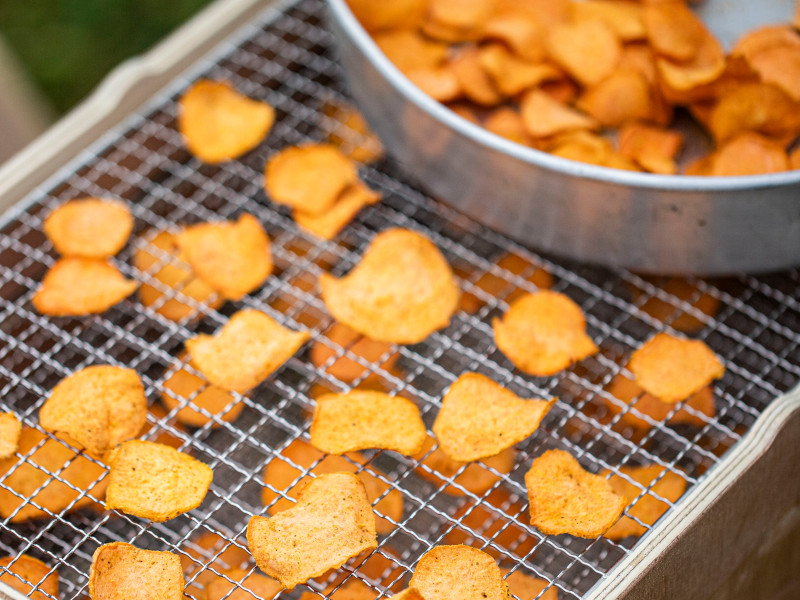 Sun recipe: Curried sweet potato chips Here's a recipe for curried sweet potato potato chips [...]