Top 3 recipes with the Sungood solar cooker
In this article you will discover our top 3 recipes to try with our
Sungood solar cooker
!
The Sungood has the advantage of being an ultra-compact solar cooker that you can easily take anywhere, thanks to its backpack.
Solar recipe #1: Basque chicken
Preparation time: 20 minutes – Cooking time: 1 hour 40 minutes
Ingredients
Tomatoes (x3)
Peppers (x1)
Onion (x1)
Garlic
Oil (4 tablespoons)
Salt
Pepper
Chicken breast
White wine
Recipe preparation
Chop the onion and garlic and finely dice the tomatoes and peppers.
Heat 4 tablespoons of oil in the CookUp pot with the onions, garlic and peppers.
Cook for 10 to 20 minutes.
Add the tomatoes to the casserole, season with salt and pepper. Cover and simmer for 20 min.
Add the chicken breasts to the vegetables, with a bouquet garni and white wine, and cook for 40min-1h!
Open your pot, it's ready!
Solar recipe #2: Apple fondant cake
Preparation time: 30 minutes – Cooking time: 3 hours
Ingredients
1 plain yoghurt
120 g sugar
1 sachet vanilla sugar
2 eggs
250 g flour
2/3 apples
1 tablespoon oil
Recipe preparation
Pour a pot of plain yoghurt into a salad bowl.
Then use the jar to add the other ingredients: in the same bowl, pour in the sugar, 1 sachet of vanilla sugar and 2 eggs, then whisk together.
Add the flour and a sachet of yeast, then whisk again until smooth.
Add 1 tablespoon sunflower oil and whisk again. If you wish, you can add 2 tablespoons of rum to the cake, making it even more delicious.
Then cut 2-3 apples into small pieces. Fold into the homogeneous mixture.
Butter the bottom and sides of the black pot and pour your mixture into it.
Leave to cook for 3 hours unattended, and that's it – your ultra-soft, melt-in-the-mouth apple cake is ready for a snack!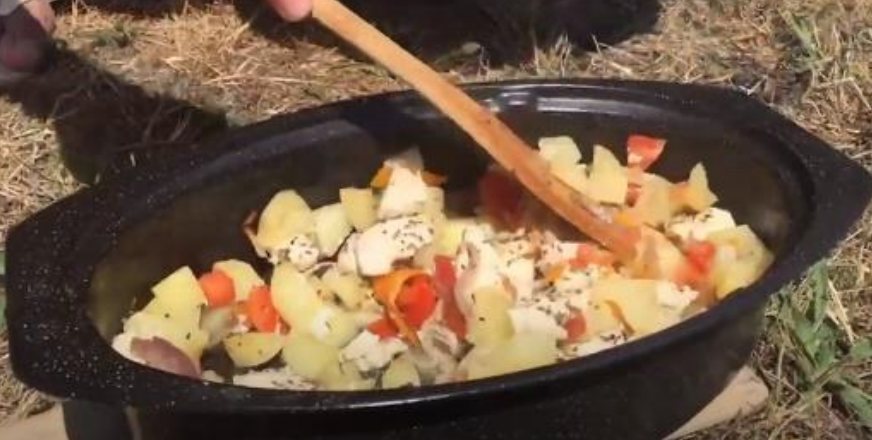 Solar recipe #3: Vegetable chicken
Preparation time: 30 minutes – Cooking time: 3-4 hours
Ingredients
2 Onions
1 Carrot
2 Tomatoes
1 zucchini
2/3 potatoes
Olive oil
Provence herbs
Bouquet garni
Bay leaves
Salt and pepper
Recipe preparation
Cut 2 onions, 1 carrot, 2 tomatoes, 1 zucchini and 2-3 potatoes into small pieces (the smaller they are, the easier they'll cook!). Cut the chicken into small pieces.
Put everything in the pot with a drizzle of olive oil, and season to taste (herbes de provence, bouquet garni, bay leaves, salt, pepper).
Simmer in the sun for 3 to 4 hours to ensure even cooking. Open and enjoy!
Share your solar recipes with the Solar Family!
Recipe made with a solar panel oven
Solar recipe: Marinated chicken in soy sauce Here's a recipe for marinated chicken in soy [...]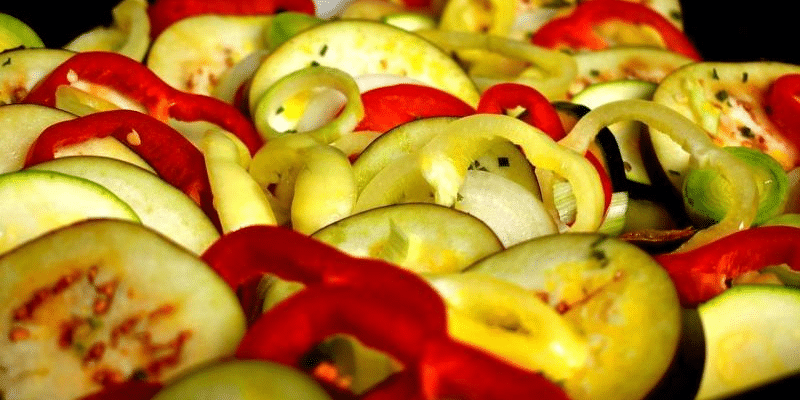 Sun recipe: Ratatouille Here's a ratatouille recipe to make with the Sungood solar cooker. The [...]
Solar Recipe – Chocolate Chip Muffins Can you bake cakes in a solar oven? Yes [...]