Sun recipe – Mediterranean Gressins
A very simple gluten-free solar recipe, to be served as an aperitif with a lemony avocado purée. Breadsticks can be prepared several days in advance.
For a dozen breadsticks
Preparation: 20 min – Cooking time : 1 h 30 in the solar oven
Ingredients
90 g buckwheat hulls
70 g sun-dried tomatoes in oil
120 g brown rice flour
20 g starch (cornstarch, potato starch, etc.)
1 c. to c. baking powder
1⁄2 c. to c. salt
1 c. to s. powdered thyme
2 c. to s. olive oil
100 ml water
1 c. to c. agave syrup (or other liquid sugar)
Recipe
Preheat the solar cooker.
Blend the buckwheat in a blender to obtain fresh flour.
Blend the tomatoes to obtain a coarse purée.
Mix the rice flour, freshly ground buckwheat flour, cornflour, baking powder, salt and thyme powder.
Add oil, water and agave syrup. Mix with your fingertips until you obtain a smooth, non-sticky ball. Add a little cornflour if the dough is too sticky.
Take a small ball of dough and roll it out on a floured work surface, using your hands, until it forms a 1 cm thick sausage. Continue until the dough is used up.
Place the breadsticks in the bottom of your oiled and floured (preferably black) cooking pot. Bake for about 1 h 30.
To ensure they dry properly, continue cooking with the lid ajar for a further half-hour.
Enjoy once the breadsticks have cooled. Serve as an aperitif with a lemony avocado purée.
---
Find this solar recipe in Sarah Bienaimé's superb book

Cuissons Alternatives – 40 vegan and gluten-free recipes for cooking differently
---
Forget the microwave.
Forget the plancha.
Put away the deep fryer.
This cookbook celebrates alternative cooking: gentle, healthy and delicious.
In our xxi
e
century's super-equipped, hyper-connected kitchens, worktops are taking on a sci-fi air, while common sense is going out the window.
Overpriced cooking utensils, lengthy instruction manuals, systematic dependence on fossil fuels, premature obsolescence…the tea towel is burning!
Simplicity, ingenuity, a bit of organization, utensils that last a lifetime (some of which you can make yourself), simple cooking techniques and delicious recipes… that's what this cookbook is all about.
Pottery, solar, woodstove, steam, hot water, Norwegian pot… and even "no cooking" at all! Nothing is too good.
And since good news never comes alone, we'll be cooking without meat or animal products, discovering some extraordinary spices, going gluten-free, enjoying the sunshine and inviting all our friends over for dinner.
Be happy!
Sarah Bienaimé
Author and consultant in vegan and gluten-free cooking
http://www.sarahbienaime.com/
---
Share your solar recipes with the Solar Family!
Recipe made with a solar panel oven
Solar recipe: Marinated chicken in soy sauce Here's a recipe for marinated chicken in soy [...]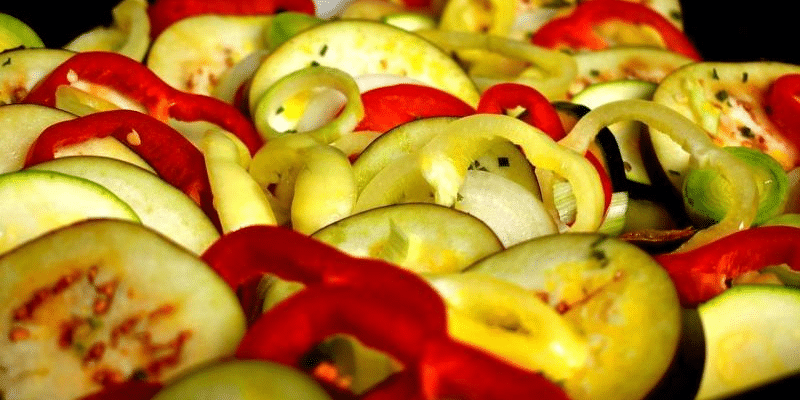 Sun recipe: Ratatouille Here's a ratatouille recipe to make with the Sungood solar cooker. The [...]
Solar Recipe – Chocolate Chip Muffins Can you bake cakes in a solar oven? Yes [...]