Sun recipe: Lime pineapple chicken
This recipe, made with the Sungood 360 multi-cooker solar oven, is presented to us by our Solar Sister Gaelle! Discover this original recipe for chicken with pineapple and lime, tested and approved with the Suntube solar cooking tube. Gaelle has always been a mom with a passion for cooking and, more recently, for solar energy. She is always happy to share her trials and experiences on her Instagram page
Solliès Cheese
.
Recipe suggested by : Solliès Cheese – Tubular solar oven, SunGood 360 – Preparation time: 30 mn – Cooking time: 2/4 hours
Ingredients
2 chicken fillets
1 lime
pineapple juice
2 slices pineapple
2 sprigs spring onion, cut into chunks
olive oil
(optional) a splash of amber rum
Preparation of the pineapple-lime chicken
Cut the chicken into aiguillettes and place in the cooking tube with the pineapple, cut into large cubes, and the spring onions.
Drizzle with lime juice, pineapple juice, olive oil and, if desired, rum. The whole thing must be juicy to keep the chicken tender.
Place in the oven for 30 minutes, or until the chicken is cooked through. Don't hesitate to check regularly to make sure it's not too dry.
Serve with grilled vegetable rougail or roasted sweet potatoes, for example.
Enjoy your meal!
Share your solar recipes with the Solar Family!
Recipe made with a tubular solar oven or a panel solar oven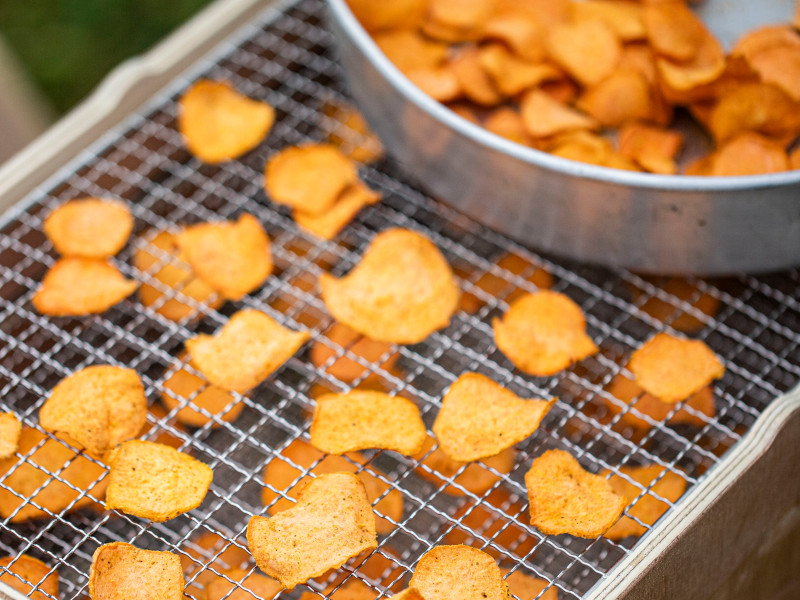 Sun recipe: Curried sweet potato chips Here's a recipe for curried sweet potato potato chips [...]