Sun recipe: ham and cheese croissants
Here's a recipe for ham and cheese croissants that's delicious and easy to make! This recipe was suggested by our Solar Sister Francine and made using a parabolic solar cooker. Francine also shares her tips and tricks for successful solar cooking.
Recipe suggested by : Francine – Solar oven: parabolic type, SunGlobe – Preparation time: 10 minutes – Baking time: 2 hours 30 minutes
Ingredients
1 puff pastry
4 slices of ham
Grated Gruyère
1 egg yolk
Salt and pepper
Preparation of the ham and cheese croissants recipe
Preheat the pan in the solar oven for 20 minutes while you prepare the ingredients.
Cut the dough into 12 pieces. Garnish each slice with ham and Gruyère cheese. Season with salt and pepper.
Roll up the slices to form small crescents.
Brush each slice with egg yolk.
Place the parchment paper in the pan and place the croissants on it.
Baking takes about 1h30.
Comments
The recipe was made with a cold wind, so the cooking time is a little longer.
Turn the pan a quarter turn every 15 minutes and cover with a light cloth to prevent the croissants from burning.
Share your solar recipes with the Solar Family!
Recipe made with a parabolic solar cooker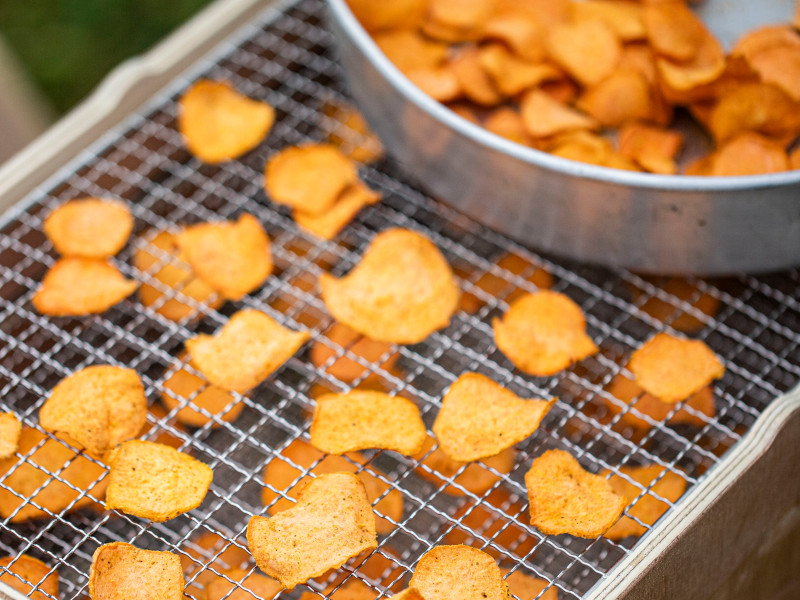 Sun recipe: Curried sweet potato chips Here's a recipe for curried sweet potato potato chips [...]