Solar recipe: Witch's stew (Halloween special)
Discover this recipe for witch's stew (Halloween special) tested and approved with the SunGlobe parabolic solar cooker. A healthy and devilishly fun recipe that will make even the most reluctant eat vegetables. This recipe is made by our Solar Sister Gaelle! Gaelle has always been a mom with a passion for cooking and, more recently, for solar energy. She is always happy to share her trials and experiences on her Instagram page Solliès Cheese.
Recipe suggested by : Solliès Cheese – Parabolic solar oven, SunGlobe – Preparation time : 20 mn – Cooking time : 1h
Ingredients
a pumpkin, or other squash of your choice.
two onions
fresh button mushrooms
a bouillon cube, or homemade bouillon
Preparing the witch's stew
Using a straw, hollow out two holes in the cap of each mushroom to represent the eyes of our poor innocent victims…

Add them to a fine black pot with the chopped onions, the cored and roughly diced pumpkin, and the stock cube. Cover with water and season with salt, pepper and herbes de Provence.

Leave to simmer for an hour or so, until the pumpkin is just tender, turning your dish every twenty minutes or so to adjust the alignment with the sun. (Cooking time can be shortened by preheating the oven).
Enjoy your meal!
Share your solar recipes with the Solar Family!
Recipe made with a parabolic solar cooker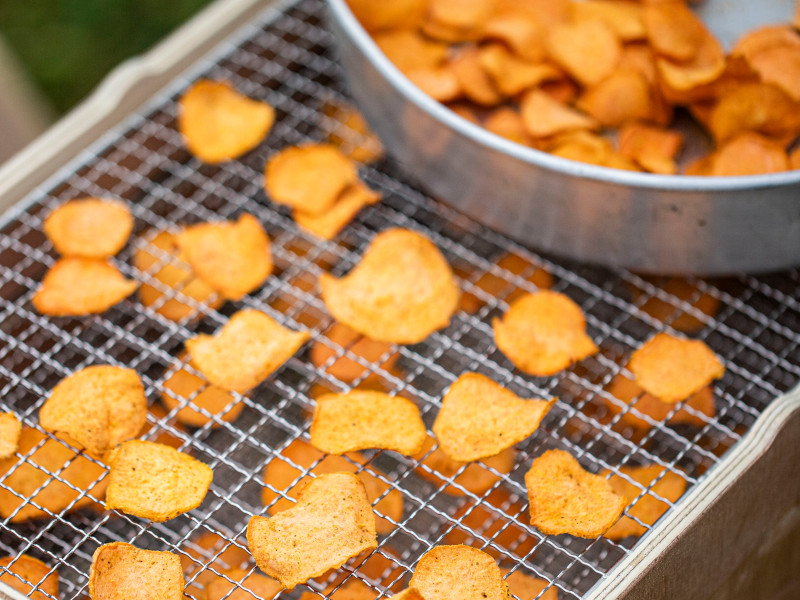 Sun recipe: Curried sweet potato chips Here's a recipe for curried sweet potato potato chips [...]